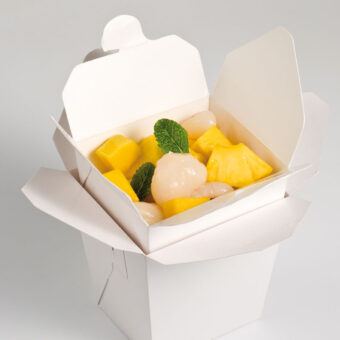 Frozen Lunch box main course and dessert
Two recipes to discover:
Vegetable and chicken fried noodles and fruit salad
Shrimp Thai Pad with sticky rice and mango.
In one box, a balanced savoury meal and dessert.
The whole pack is designed to be reheated in the microwave
Our recipes are balanced and tasty.
Fried noodles with chicken and vegetables Lunch Box, includes exotic fruit salad.
Delicate chinese noodles with pieces of chicken breast, vegetables with a touch of soya and Thai basil.
Exotic fruit salad (mango, lichi, pineapple, with ginger sirup).
Pad Thai Lunch box with prawns and stick mango rice.
Rice noodles cooked with prawns, tofu and chopped vegetables.
Dessert is coconut milk sticky rice with diced mango.
A 100% Thai menu.
Cooking instructions:
Microwave: 6 minutes at 900 w.
Product made in Thailand.