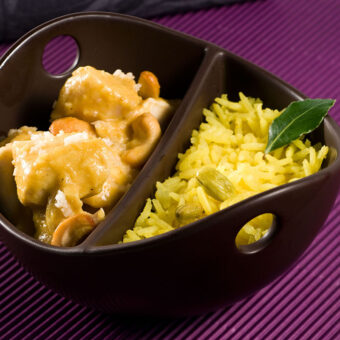 Frozen Chicken korma
A traditional Indian curry made of tender pieces of chicken, a creamy sauce made from coconut milk and several spices.
Other recipes to discover:
Biryani chicken
Our range of Indian food is served in two-compartment containers, with meat cooked in a sauce and accompanied by cooked rice.
Chicken tikka: yoghurt and tomato sauce seasoned with spices.
Chicken korma: a rich mix of cooked spices in coconut milk, with a touch of chilli.
Butter chicken: traditional recipe of chicken cooked in butter, with a smooth sauce.
Byriani chicken: chicken cooked with vegetables (tomato, pepper and onion), served with rice.
Tandoori chicken: cooked with typical spices of a lovely red colour.
Goa chicken: recipe from the South of India with coconut.
Cooking instructions
Microwave on 900w for 5 minutes
Frying pan.
Products made in the United Kingdom.