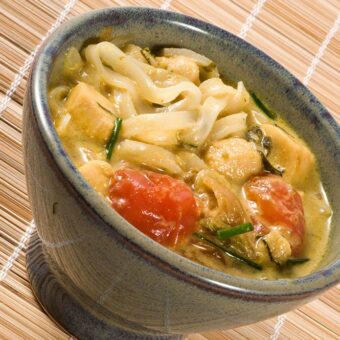 Frozen Kao soi soup – Thaï Tapas

Recipe from Northern Thailand.
Rich coconut milk broth with curry, rice noodles and pieces of chicken.
Ingredients:
Coconut milk, water, rice noodles, chicken, tomato, mustard, shallots, soy sauce, sugar, curry paste, sunflower seed oil, mild basil, modified tapioca starch, soy sauce, salt.
Cooking instructions:
Reheat in the microwave, 5 minutes at 900w.
Product made in Thailand.